Webcam Tip – Zoom and Field of Vision: a reader asks…
I have a Logitech webcam and use it for Zoom, Microsoft Teams and GoToWebinar. I get that Zoom and Teams have the capability for virtual backgrounds and blurring your background, but what I'd like to do is zoom in my webcam or otherwise narrow in on myself. The webcam view is too wide. Got any tips?
Yes I have tips. Depending on which model of webcam you have (and what else you want to do), you can use either the Logitech Capture software or the new Logi Tune software. Both have a zoom slider so you can digitally zoom in as much as you like. I would still recommend you place the camera as close to your face as practical, since digital zoom does make things fuzzier the more you zoom in. I believe that either will work with your webcam, although the Logitech website has lists of supported webcams for Logitech Capture and Logi Tune – click to open those pages and scroll down to Specs & Details to see if your specific camera is on the list. Logi Tune's list says "and more" so I think there's a good chance that it will support your webcam. Both apps are free to download and use.
I should mention that most of the webcams at Logitech have a fixed, 78 degree field of view, which is fine for all purposes. There are a couple of Logitech webcams that are different, such as the Brio 4K Pro, which as a 4k webcam can be adjusted to either 60, 78 or 90 degrees while still giving sharp 1080 resolution, and the C930s, which has a fixed, 90 degree field of view. For field of view, 60 degrees is better for individuals, 90 degrees is better for groups of people (such as sitting around a conference table). Also, the Brio line and the StreamCam connect via USB-C (and have higher requirements for the power of your computer), the others use the USB-A connection type.
Both Logitech Capture and Logi Tune have zoom controls and let you apply basic adustments (like white balance and brightness), and simple video filters.
The Logitech Capture software has several extra features, such as adding a watermark or text overlay (aka "lower third"), scene options including picture-in-picture mode, and allows you to record yourself. The only stipulation for using Logitech Capture is that you have to start that app before you start your streaming application (Zoom, Teams, etc.). With Logitech Capture running, open your streaming app and you'll see both your webcam and a second camera "Logi Capture" which you choose to display your webcam image in the streaming app.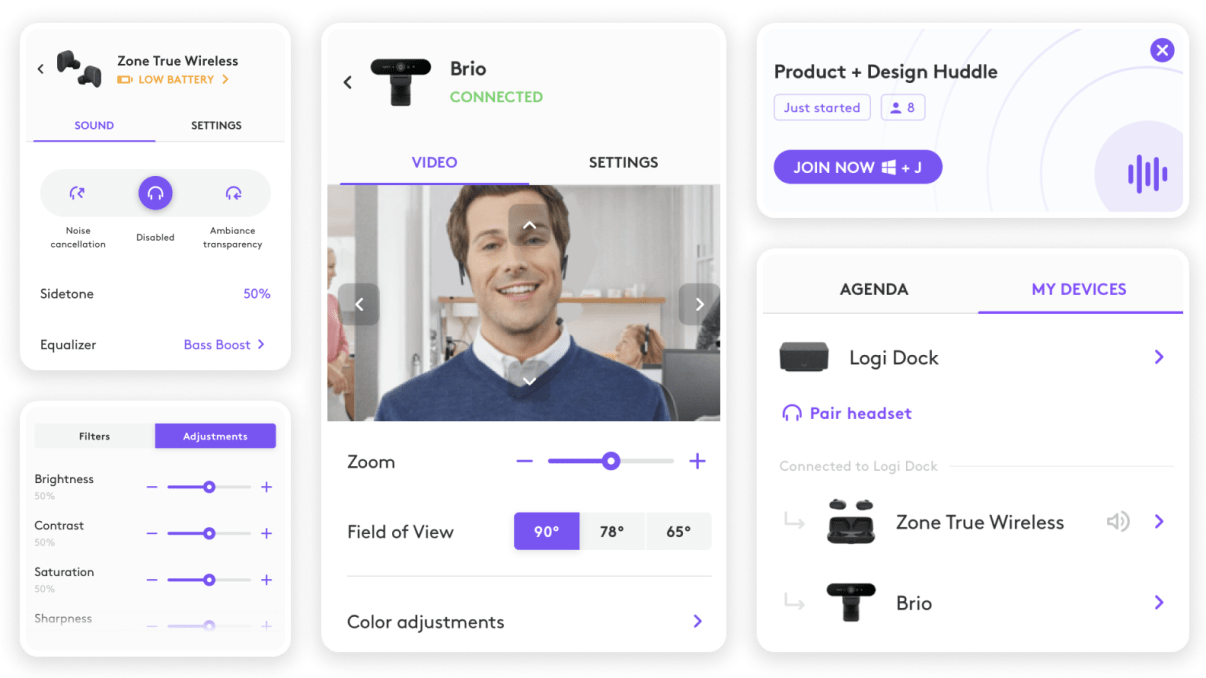 Logi Tune is much simpler to use. Most notably, it works independently of your webcam so you don't need to "switch cameras". It also has a handy bonus, there's a webcam firmware updater built into the app to help you keep your webcam up-to-date. Whichever Logitech app you use, you can easily control the zoom level either before you start the streaming app, or during a call.
You asked for tips, so let me offer a few more:
Use a good microphone if possible. The built-in microphone in your webcam is decent, but having a microphone nearer your lips is always going to be better. You can use a fancy microphone like the Yeti Blue line, or a simple lavalier microphone. Having the microphone close to your lips helps the streaming app to block out other unwanted noise and makes you sound significantly better to your streaming participants. You want to sound your best, right?
Use a simple background behind you if possible. The more varied colors in the background behind you, the harder your webcam has to work to blank those out, whether you use blur or a virtual background. Even without a blur or virtual background, your streaming participants will have an easier time if you have a simple background behind you.
Have decent lighting in front of you, pointing at your face. This need not be overly bright, but I see so many folks on video conferencing who are sitting with their back to a window, and their face is in shadow. You want to look your best, right?
Please, please, mute your microphone when you're not speaking. Even after years of everybody doing video conferencing due to the pandemic, many folks forget to mute their microphones, and ambient noise leaks in.
I have many more tips in other articles I've written about on this blog, such as Up your Zoom Game and Fun with Zoom
---
This website runs on a patronage model. If you find my answers of value, please consider supporting me by sending any dollar amount via
(send to @PosiTek),
(send to Support@PosiTek.net),
using any credit card (no Paypal account required), using Zelle, Apple Pay or Google Pay, or by mailing a check or cash to PosiTek.net LLC 1934 Old Gallows Road, Suite 350, Tysons Corner VA 22182. I am not a non-profit, but your support helps me to continue delivering advice and consumer technology support to the public. Thank you!